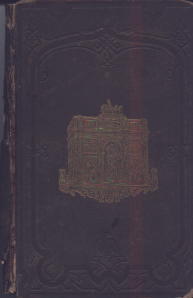 or
INTERESTING ANECDOTES AND REMARKABLE CONVERSATIONS OF THE EMPEROR
During the Five and a half years of his captivity
Collected from the memorials of:
Las Casas, O'Meara, Alontholon, Autommarchi and others.
BY JOHN S. C. ABBOTT
The book is dated 1855, however, inside the cover is a plaque that reads as follows: St. Louis University,
Class of Poetry
The First Premium in Mathamatics
has been awarded to: Isaac S. Taylor
St.Louis, MO June 25th, 1868
signed by: Thomas O'Neil, President
The book is only in what might be considered fair shape. The printed pages are only slightly yellowed, however, the first 32 pages are loose from the binding. They are there, though, and rebindable. One must remember the book is at least 137 years old. The book tells about Napoleon and his ordeal, and what struck us was that he was described as a genius by all.. One of his quotes is:" My son should not think of avenging my death. History will do me justice." Our price is a pretty firm $150.00.
BACK